Hello again gals and ghouls and welcome back to Nightscrawlers, your local internet place for all things spooky. Today I want to talk about Mr. and Mrs. Ed and Lorraine Warren – Infamous demonologists, psychic mediums, and paranormal investigators. Just a few short months ago we lost the widowed Lorraine at the age of 92 and I would like it if everyone would keep her in your thoughts while reading this post. 
Please leave comments with any of your loving thoughts for her family and hopefully, I can get this post over to them so they can see what an inspiration the two of them were. 
Biography
Edward Warren Miney was born on September 7th, 1926 in Bridgeport, Connecticut, USA and was raised in a household with both his mother and father. His first experiences with the paranormal were between the ages of five and twelve when he experienced supernatural phenomenon in his family's Connecticut home. Although his father was a logical man and claimed there was a reason for everything, he was never able to explain what occurred in the home.
It was while working at a theatre in Bridgeport at 16-years-old that he first met Lorraine Rita Moran who was also 16 at the time. While walking her home from a show one night in 1942, he decided to ask her on a date and the rest is basically history.
When Ed turned 17, he went into the Navy. However, four months in, his ship sank and he was sent home for a 30-day leave. This is when Ed and Lorraine chose to marry; only one year into their relationship and before the age of 18. After World War II, the two had a daughter and Ed, who was an avid painter, tried going to art school. He eventually dropped out allowing he and his young family to buy a car and travel the United States selling his paintings. They actually ended up making a decent living for the times!
Surprisingly enough, this is what got the two into paranormal investigating, even though at this point, Lorraine did not believe in the supernatural or paranormal. But that was clearly about to change. They started seeking out houses in whichever area they were travelling that were reported to be haunted. Ed would quickly paint an image of the people's houses and Lorraine would bring it to the door and sweetly ask to come in.
Following the beginning of this spontaneous career change, the couple founded the New England Society for Psychic Research.
Ed Warren died on August 23rd, 2006 of a heart attack at age 79 while Lorraine passed on earlier this year on April 18th, 2019 at the age of 92.
The New England Society for Psychic Research (N.E.S.P.R)
The New England Society for Psychic Research, or N.E.S.P.R, was founded by Ed and Lorraine Warren in 1952.
After one case in 1965 in which the Warrens were called to a home being supposedly haunted by a young girl named Cynthia, the main goals of the society changed. It was no longer just about investigating haunted locations, but about helping trapped spirits, like Cynthia, move forward and find "spiritual peace."
Since the Warrens were initially unsure of how to help these spirits, Ed decided to approach clergymen of different religious groups to ask what they would do if they were called to help a family with an alleged haunting. Each one gave him varying answers, including; "Call a psychiatrist," "Perform a blessing of the house," "Perform a mass if the blessing didn't work," and finally, if all else failed, "Perform the rite of exorcism."
Oddly enough, many of the Catholic priests that Ed spoke to, claimed that they didn't even believe that there is a devil, despite "psychic words" littering the Bible such as apparition, ghost, devil, demons and evil.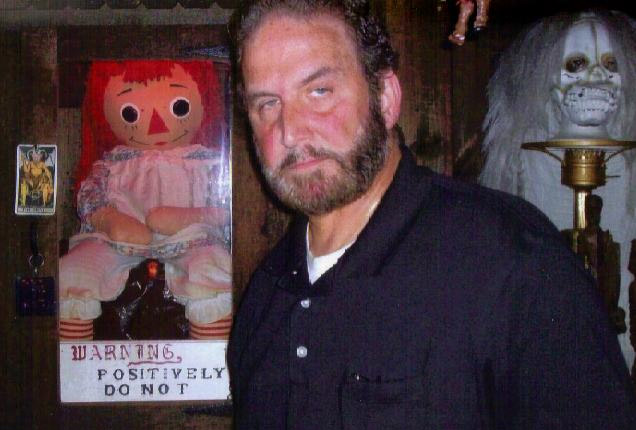 Although N.E.S.P.R.'s work is based on religion, it is also heavily influenced by science. The team consists of medical doctors, researchers, police officers, nurses, college students and even your typical housewife.
Even Ed considered himself to be a skeptic to some degree, stating that he has to see, hear and feel something physically to determine if it is really there. This is extremely common in the debate with skeptics. Many people feel that they need physical evidence before they could ever believe that a haunting or spiritual event is true and not able to be "debunked" by simple things like creaky floorboards or even uneven floors that allow items to roll without force.
If you feel that you have a case that may require the assistance of N.E.S.P.R., you can contact Tony Spera at Nespr2@yahoo.com or send a letter/photos to N.E.S.P.R., PO Box 41, Monroe, CT, 06468.
Famous Cases
For this section, I am going to simply list the most well known cases that the Warrens participated in. If you would like to see a full post on these cases, please leave a comment below or email me at contact@nightscrawlers.ca and I will continue this series. Please note that there are MANY more famous cases that are not listed here, but these were the most searched for online.
The following cases are listed in chronological order:
Annabelle the Doll (1968)
The Perron Family Farmhouse (1970)
The Amityville Horror (1974)
The Snedeker House (1986)
Every single one of these cases were used for inspiration in many feature films, some with the assistance of the families involved in the cases, such as the Perron family and the Snedeker family.
Published Works
Ed Warren, and in some cases Lorraine as well, are not only paranormal researchers and a psychic medium, but they are also authors. In total, they have approximately six writing credits as main authors on different books. The books are recounts of different cases that they were heavily affected by.
Below is a list of their six credited books along with the year of publication:
Ghost Hunters: True Stories From the World's Most Famous Demonologists (1989)
Ghost Tracks (2004)
Graveyard: True Hauntings from an Old New England Cemetery (1992)
The Haunted: The True Story of One Family's Nightmare (1988) – with the Smurl family
Satan's Harvest (1990)
Werewolf: A True Story of Demonic Possession (1991)
The couple were also written about in dozens of books written by other authors regarding the couple, their cases, and sometimes alternative viewpoints of some of their cases as in the case of the House of Darkness, House of Light trilogy by Andrea Perron, whose family's experiences inspired the feature film, The Conjuring.
The Museum
Throughout their years of investigation, Ed and Lorraine collected numerous items that are said to be cursed from different investigations that they were involved in and placed them in what is known as the Occult Museum. It is a one of a kind attraction that sees hundreds of visitors every single year. I could write an entire post just on the museum, but this is not the place for that. But I will let you all know that if you choose to visit the museum in Connecticut, at the Warren's former home, you will come into contact with the real Annabelle doll who is locked in a blessed box for the viewer's safety. Some say that you can see her move and she will curse anyone who taunts her, leading to the person's untimely death.
—————————————————————————————————————————————–
I'd like to finish off this post with a quote from Ed Warren himself:
"If you look at a fan and it's standing still, you can see the propellers very easily. But, if that fan starts up you can't see anything—it's invisible. Spirits are on that different vibrational field. They're all around us right now but you can't see them. But if you were like Lorraine, you could see them clairvisually, hear them clairaudioally."
Rest in Peace Ed and Lorraine Warren
Thank you all for joining me for this important story today. Ed and Lorraine Warren have been inspirations to many paranormal investigators and opened the door for generations of investigators to come. Thanks to them, it is no longer taboo to speak of these things and many more of us are comfortable discussing these sort of topics. I am very sad that I did not get to meet either Ed or Lorraine during their lifetime, but you best believe that I am going to Connecticut as soon as possible! 
If you have any ideas for future stories, please comment below and I will begin my search into anything you wish to learn. That's all for now, so remember… Keep it spooky!